Joint Promotion of Renewable Energies
In times of climate change and a constantly growing energy demand, renewable energies play an important role and are more in demand than ever. The focus is on the responsible use of resources, affordability and security in supply.
As a supplier and partner to the major manufacturers of wind turbines and photovoltaic systems, we have been part of the industry since the beginning of the energy revolution and have been actively involved in it with our new developments. In cooperation with our customers, we have already developed numerous solutions to further promote renewable energies and to make them more efficient. In the meantime, Germany has moved up to third place in the world ranking when it comes to the use of renewable energies and is thus a leader in this field. Demand continues to rise. The world's growing population stands for an ever-increasing demand for energy.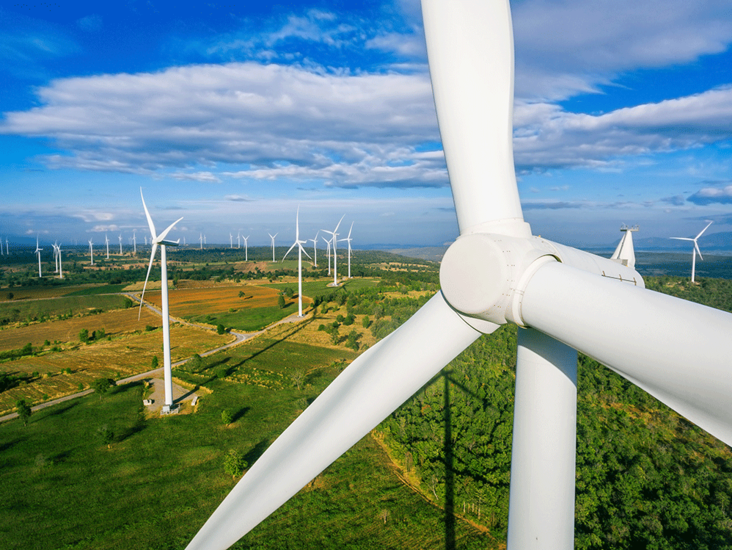 Innovation Driver in the production of Enamelled Copper and Aluminium Wire
Over 70 years of experience in the production of enamelled copper and aluminium wire pays off for you. Our wires meet the highest demands. But we are not satisfied with that. Our research and development department is constantly developing better and more efficient products. Further advantages for you as our customer: We react quickly to enquiries and approach every project flexibly, even when it comes to the development of special wires (wrapped or braided) for the renewable energy sector.
In order to meet the highest quality standards, we have developed a process monitoring system that is unique and makes us a pioneer in the industry. We permanently record and control all operating and machine data for each machine and production line. All quality-relevant process and production parameters are seamlessly measured, controlled, documented and stored. This is done fully automatically throughout the entire production process. If problems arise during operation, we immediately recognize them and intervene to regulate them.
This makes us the perfect partner for new developments and innovations.
Our Enamelled Wires for Renewable Energy
Some enamelled wires from our standard range have already been technologically optimized for renewable energies and are adapted accordingly.
High temperature resistant enamelled copper wire, round, temperature class N
Excellent mechanical resistance to abrasion
Extremely low coefficient of friction for gentle wire processing
Verifiably improved strength of insulation
High temperature resistant enamelled aluminium wire, round, temperature class N
Excellent resistance to chemical stress
Best processing properties due to optional, additional lubricating coat
High temperature resistant enamelled copper wire, flat, temperature class N
Excellent thermal long-term resistance and overload capacity
Excellent resistance to mechanical stress
Excellent insulation properties
Our development team will be happy to assist you with your projects. In addition to standard wires, we also offer wires that are tailored to your needs. In this way, we can jointly drive forward innovations in the field of renewable energies. Feel free to contact us for development projects.
Our Know-how – Your Benefits
More than 70 years of experience in enamelled wire production
Fast decisions even for large projects
Customer-specific new developments possible
Short lead times thanks to the SynFlex Group network